Product Information


Rack & Pinion Design

ISO 5211 Drilling

Namur Standards

4 Pistons




Click Here for a downloadable and/or printable version of this page.



THERE ARE BIG ADVANTAGES TO THINKING SMALL

WHY SMALLER IS BETTER
The Sonic Torque Pneumatic Actuator Series 4x4 packs more than double the torque of conventional rack and pinion actuators. That ís because it has four pistons generating torque around a centrally located pinion. With more pistons in the actuator, it allows their diameter to be smaller while generating higher torque. At the same time, it means the size of the actuator can be more compact.

WHY SMALLER IS FASTER
With four small cylinders each located on one of four sides of the unit and at a given air pressure, the 4x4 produces the same torque output as double piston models using smaller diameter pistons and a narrower pinion. Thanks to the narrower pinion, the pistons travel shorter distances so that they can move faster from one position to the next.

WHY SMALLER REDUCES AIR CONSUMPTION
The cube shape coupled with pistons traveling shorter distances minimizes size requirements while maximizing torque output. At the same time, shorter piston travel and compact size greatly reduces pressure requirements compared to other designs and results in reduced energy expenditures.

WHY SMALLER MEANS LESS STRESS
It's a matter of balance. Unlike other designs that produce an off-axis thrust, the 4x4 design positions each piston around the cube so they develop thrust along their own axis. As a result, stressful piston side loading is minimized putting less stress on seals resulting in less wear.

WHY SMALLER IS A BETTER SOLUTION
Because of the four-cylinder design, the 4x4 has many more spring combination possibilities than double piston actuators. This means better solutions under any air pressure requirement. Each chamber can use up to three different spring sizes which nest between the covers and pistons and align by centering rings. Also, springs are wound in opposite directions to avoid tangles during operation.

WHY SMALLER IS STRONGER
For superior corrosion resistance, the body and covers are anodized internally and externally. Plus, they have an external epoxy base layer and a second polyurethane paint to further reduce corrosion in demanding applications. Extended spray wash downs do not create corrosion problems for the actuator.


| | |
| --- | --- |
| | Travel stops can be adjusted by four studs at the base of the actuator. The studs are opposed from each other so no unequal forces are generated, the stop design allows for -/+ 5° adjustment in both opening and closing rotations. Mid-stroke stop points can be achieved with longer studs. |
| | |
| --- | --- |
| Blowout proof and Acetal support pad in body maintains proper contact of the piston racks to the pinion at all times. | |
| | |
| --- | --- |
| | Nested springs are aligned by rings cut in the piston face and end cap. This ensures correct orientation. With four cylinder areas, many different combinations are available allowing for correct sizing. |
SonicTorque® 4 x4 utilizes carbon steel pistons that allow for higher cycles because of their greater strength.
Viton seals in the piston drive shaft also lead to higher cycles. Inside surface finish (Ra 0.4-0.6 um) to minimize friction and to maximize the life of the actuator.
Standard applications for temperature ranges from BUNA -4°F to176°F, -20°C to 80C, Also Available: Viton -4°F to 250°F, -20°C to 120°C, EPDM -40°F to 176F, -40°C to 80°C
Piston bearing made of material with low friction coefficient to avoid metal to metal contact. Easily replaceable for maintenance.
Double lower drilling for valve mounting, and centering, according to ISO 5211/DIN 3337 standards.
Independent bi-directional travel stop adjustment +/- 5° ensuring precise positioning in all flow control services, adjustable between 85°- 95° rotation.
Direct mounted solenoid connections according to NAMUR standards. Lower female shaft key, according to ISO 5211/DIN 3337 standards, for assembly on valves with star or square shaft.
Air supply: can be dry or lubricated filtered compressed air.
The lubrication carried out by the manufacturer qualifies for a minimum of 1,000,000 operations.
Epoxy-coating is a deposit of powders on clean and sandblasted pieces. The chemical process is easily kept under control and after coating, the pieces must be subjected to heat treatment. Epoxy painting of actuators is advised where environment is strongly aggressive. With a normal thickness of 200/250 microns, resistance to salty fog exceeds 1,000 hours. With the exception of certain solvents, epoxy coating resists acids and alkali, and also has a good resistance to UV rays. In order to retain its properties, the coating must not be scratched.
Visual position indicator the 4 x 4 actuators are supplied as standard.
The indicator designed to remain on the actuator for continuous indication when limit switch is being used. (Not applicable in size X40)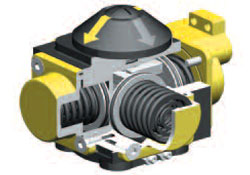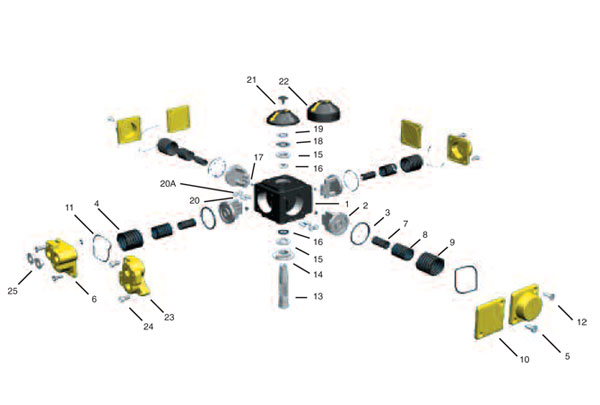 PART
NO.
QTY.
PART DESCRIPTION
STANDARD MATERIAL
01
1
BODY
Aluminum AL101A-T6
02
4
PISTON
Carbon Steel S45C Nickel Plated
03
4
PISTON "O" RING
BUNA / Viton / EPDM
04
4
COVER "O" RING
BUNA / Viton / EPDM
05
3
SPRING RETURN COVER
Aluminum AL101A/101
06
1
NAMUR COVER
Aluminum AL101A/101
07
Max 4
INNER SPRING
Painted Spring Steel
08
Max 4
MIDDLE SPRING
Painted Spring Steel
09
Max 4
OUTER SPRING
Painted Spring Steel
10
3
DOUBLE ACTING COVER
Aluminum AL101A/101
11
1
AIR SUPPLY "O" RING
BUNA / Viton / EPDM
12
8
COVER SCREW
Stainless Steel 304
13
1
PINION
Steel
14
1
STROKE ADJUSTMENT STOP
Stainless Steel 304
15
2
THRUST WASHER
Acetal / NOVA
16
2
PINION "O" RING
Viton / EPDM
17
4
PAD
Acetal
18
1
DISC BEARING
Stainless Steel 304
19
1
SNAP RING
High Alloy Spring Steel
20
4
STROKE ADJUSTMENT STUD
Stainless Steel 304
20A
4
NUT
Stainless Steel 304
21
1
INDICATOR
ABS
22
1
INDICATOR BOLT
ABS
23
1
NAMUR INSERT (SIZES 90/ 115)
AL101A/101
24
2
BOLT (SIZES 90/ 115)
Stainless Steel 304
25
2
PLUG
Plastic
Actuator
Model
Double
Acting
Spring
Return
Double Acting
With Sr. Cover
Spring
Code
Thread
Options
X40
X50
X60
X75
X90
X115


DA


SR


DS


01, 02
03, 04
05, 06
07, 08
09, 10


I = Imperial
M = Metric


P1 = High Temp Viton Seals (-4°F to 250°F
-20°C to 120°C)
P2 = Low Temp EPDM Seals (-40°F to 176°F
-40°C to 80°C)
P3 = Actuator Locking Device
P4 = Reverse Rotation


Sample: X40 SR 01 M
Sonic Torque®
Chicago - Headquarters
(708) 409-4150 / Fax (708) 409-4151
E-mail info@sonictorque.com