Product Information
Rack & Pinion Design

ISO 5211 Drilling

Namur Standards

Travel Stop Adjustment 5° +/-




Click Here for a downloadable and/or printable version of this page.
Rack & pinion design.
The standard actuator configuration has hard anodized aluminum body and epoxy coated end caps. External protection; resistance to corrosion of 500 hours in a salty atmosphere, according to ASTM B 117-73.
Inside surface finish (Ra 0.4-0.6 um) to minimize friction and to maximize the life ot the actuator.
Standard applications for temperature ranges from -4°F to +180°F.
Special options for extreme temperatures (upon request). Low Temperature Actuator -40°F to 80°F, High Temperature Actuator +5°F to 300°F.
Piston bearing made of material with low friction coefficient to avoid metal to metal contact, easily replaceable tor maintenance.
Double lower drilling, for valve mounting, and centering, according to ISO 5211/DIN 3337 standards.
The indicator is designed to remain on the actuator for continuous indication when limit switch is being used. (Not availabie in SPN 032.)
Independent bi-directional travel stop adjustment +/- 5° ensuring precise positioning in oil flow control services. (Not available in SPN 032.)
Direct mounted solenoid connections according to NAMUR standards.
Same body and end caps for double acting and spring return.
Air supply: can be dry or lubricated filtered compressed air; pressure: min. 40 PSI- 145 PSI.
The lubrication carried out by the manufacturer qualifies minimum 1,000,000 operations.
Epoxy-coating is a deposit of powders on clean and sandblasted pieces. The chemical process is easily kept under control and after coating, the pieces must be subjected to heat treatment. Epoxy painting of actuators is advised where environment is strongly aggressive. With a normal thickness of 200/250 microns of epoxy coating, resistance to salty fog exceeds 1,000 hours. With the exception of certain solvents, epoxy coating resists acids and alkali, and also has a good resistance to UV rays. In order to retain its properties, the coating must not be scratched.
Multi-function position indicator with NAMUR slot to allow visual position indicator.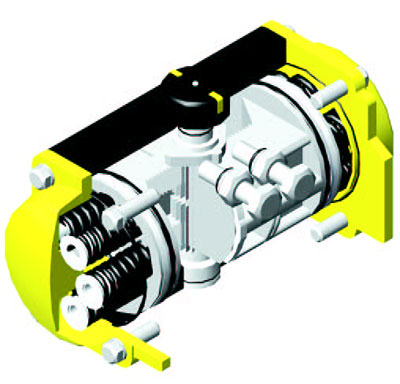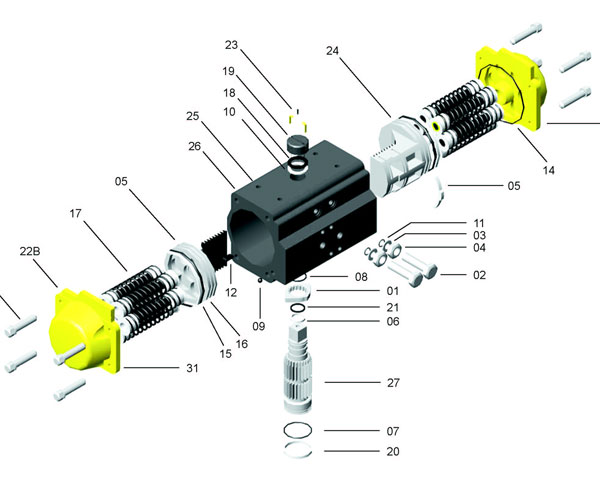 PART
NO.
QTY.
PART DESCRIPTION
STANDARD MATERIAL
01
1
STROKE ADJUSTMENT STOP
Alloy Steel HT200
02
2
STOP BOLT
Stainless Steel
03
2
WASHER
Stainless Steel
04
2
STOP NUT
Stainless Steel
05*
2
BEARING (Piston back)
Polyphthalamide
06*
1
BEARING (Pinion top)
Nylon
07*
1
BEARING (Pinion bottom)
Nylon
08*
2
THRUST BEARING (Pinion)
Polyphthalamide
09*
2
PLUG
NBR Optional: Viton, Silicon
10
1
THRUST WASHER (Pinion)
Stainless Steel 304
11*
2
"O" RING (Stop nut)
NBR Optional: Viton, Silicon
12
2
PISTON GUIDE
Polyphthalamide
13
8
END CAP BOLTS
Stainless Steel 304
14*
2
"O" RING (End cap)
Buna Optional: Viton, Silicon
15*
2
BEARING
Polyphthalamide
16*
2
"O" RING
NBR Optional: Viton, Silicon
17
5-12
SPRING (Cartridge)
High Alloy Spring Steel
18
1
SNAP RING
High Alloy Spring Steel Optional: Stainless Steel
19
1
POSITION INDICATOR
Polypropylene +GF
20*
1
"O" RING (Pinion bottom)
NBR Optional: Viton, Silicon
21*
1
"O" RING
NBR Optional: Viton, Silicon
22A
1
RIGHT END CAP
Die cast Aluminum Alloy
22B
1
left END CAP
Die cast Aluminum Alloy
23
1
INDICATOR BOLT
Stainless Steel 304
24
2
PISTON
Die cast Aluminum Alloy
25
1
ACTUATOR IDENTIFICATION LABEL
Aluminium
26
1
BODY
Extruded Aluminum Alloy
27
1
DRIVE SHAFT
Steel Alloy Optional: Stainless Steel
*Suggested SPARE PARTS For maintenance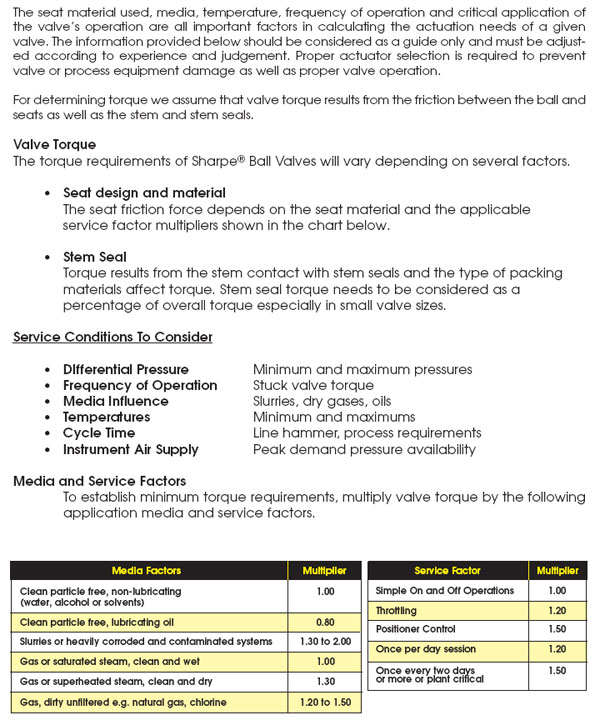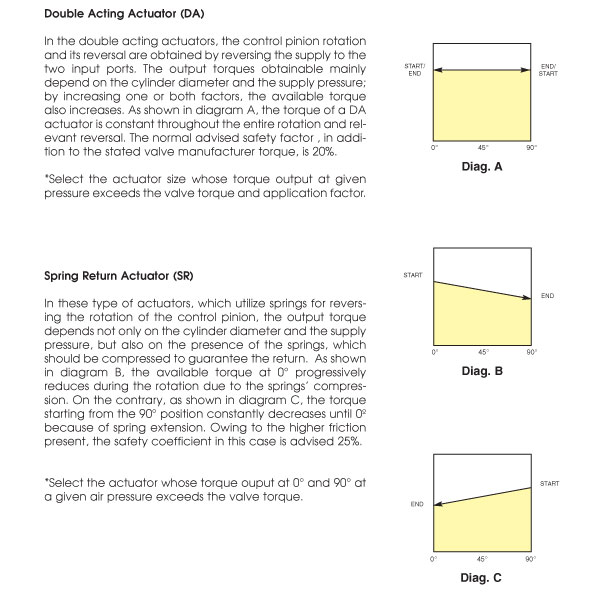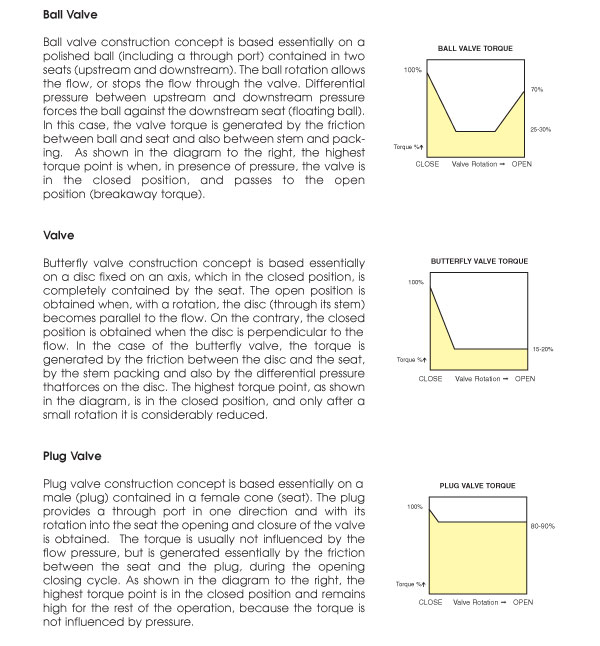 Actuator
Model
Double
Acting
Spring
Return
No. of Springs
Per Side of Piston
Options
SPN032
SPN050
SPN063
SPN075
SPN085
SPN100
SPN125
SPN145
SPN160
SPN180
SPN200
SPN240
SPN265


DA

SR

5
6
7
8
9
10
11
12

P1 = High Temperature Actuator 300°F
P2 = Low Temperature Actuator -40°F
P3 = Electroless Nickel Treatment
P4 = Epoxy Coating
P5 = 3 Position Actuator
P6 = Actuator Locking Device
P7 = Reverse Rotation
P8 = 180° Actuator

Sonic Torque®
Chicago - Headquarters
(708) 409-4150 / Fax (708) 409-4151
E-mail info@sonictorque.com